Finding A Life's Calling
---
Quincy Brown
7/22/2020


Finding a Life's Calling
This year marks 30 years since I graduated from college. I was the first person in my immediate family to go to college. I needed a guidance system to help me navigate through the unfamiliarity of college life. And like most concerned parents of a college student, my mother was only too happy to assist me in any way that she could.
For her, this meant continually providing me with information that she believed would help me when I was out on my own. Following this impulse, when it was time for me to go off to college, my mother encouraged me to pursue a degree that would enable me to get a job upon graduation.
Eager to please my mother and my love for video games, I decided to go into the field of electronic engineering. My rationale for this odd decision was thus:
The graphics in the video games were similar to the comic books and cartoons that I loved;
Most, if it not all, of the video games involved electronic and computer technology; and
The computer industry was growing, and I thought that majoring in this field would help me to get a job after graduation.
Just when I thought that I had everything figured out, I had two experiences during my freshman year that changed the direction of my life. The first experience happened during my first psychology class for the general education requirement when I became fascinated with human behavior. The notion of the "unconscious processes" that influence human behavior was something that resonated with me at a gut level. When I would go to the library to study after class, I found that daydreaming and observing interactions going on around me were much more interesting than doing calculus or any other assignment for the day.
Call it being nosy or being extremely interested in what makes people tick, but I was hooked on this strange new interest: "people watching." The next semester, when I took "Western Civilization and Culture," the same thing occurred. And in other classes, instead of reading electronic schematics, scientific proofs, and mathematical theorems, I became more interested in learning about people, their patterns of behavior, customs, rituals, and stories.
In addition to my class experiences, an unlikely off-campus encounter provided yet another distraction. While I was playing a favorite video game at the mall arcade, two teenaged girls approached me with a religious tract entitled
How to Know God
. Not wanting to lose my game, I tossed the pamphlet to the side, briefly spoke to the girls, and continued to play.
After the game was over, I picked up the pamphlet and quickly decided to find the girls to return the tract, as I thought that they had given it to the wrong person. I searched the mall over but was unsuccessful in locating the girls. I sat in the food court of the mall, trying to make sense of my encounter. Overwhelmed with emotion that I could not explain while fighting back the tears, I had a hunch that something or someone was calling me. But what was I being called to do? More importantly, how was I to be sure of what or who was calling? I yelled out to God at the top of my lungs: "God, what do you want from me?" I didn't receive an answer, at least not on that day. Several months later, I finally accepted God's response: "I want you to serve me!"
Looking back on my college days, I believe that the two girls were angels; that is God's messengers who found me in an arcade room. I learned that God's call on our lives would be consistent with our God-given talents, passions, and interest. I learned the difference between a career and a calling and recognized that the two words did not have to be at odds with each other. My mother's desire that I earn a credential to get myself employment after graduation was a vital driving force that led to a career. Upon graduation, I worked for a computer company that regularly asked me to stretch the truth to maximize profits. The company laid me off two years later.
Losing my job was a significant factor in helping me to discern what I came to understand as my life's calling. My calling began with my artistic love of comic books and epic stories and culminated in the encounter with the two girls in the video arcade room. It turned out that being an electronic engineer was not my life's calling. My love for comic books, courses in psychology and cultural studies, and a desire to help people make sense of life convinced me to pursue a call to use my imagination as an ordained United Methodist minister to help people make sense of life.
Being an electronic engineer was not my life's calling. Are there times where you've discovered that you were not living your life's calling? What was helpful to you as you worked your way through these situations? There are times during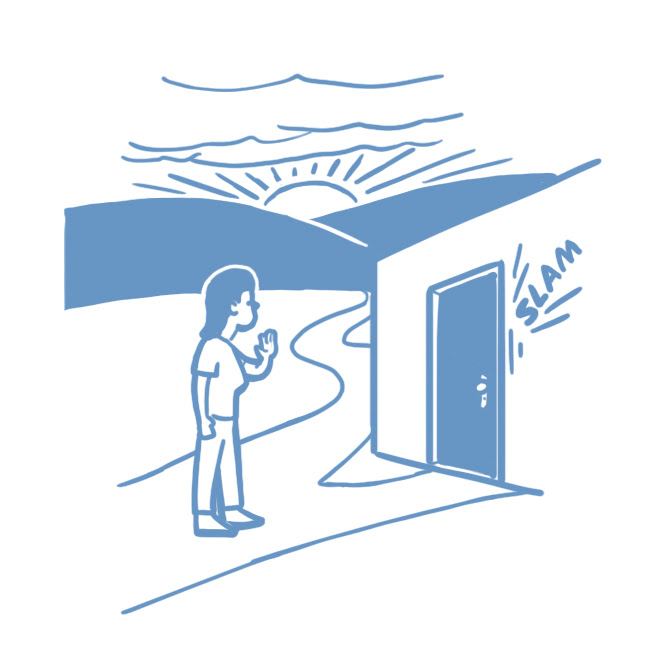 discerning God's call for our lives when doors are closed to us. Is there a closed door in your life right now? How are you dealing with it? Is it possible that God may be using this disappointment to offer you something new and unexpected?
On the Journey,

Ross Boone (aka Raw Spoon) has a free course on finding your mission at
https://www.rawspoon.com/millennial-monk-and-mission-mapping
. Or join for one of his online workshops, which can be found at that same site. Here is an example of a "mission map," which he draws with people when he meets one-on-one with them while he asks them similar questions as the course.